Its two days into the new year and my heart is aching–well perhaps screaming.
Saturday, after a demonstration of nearly a thousand people in Bi'lin, Jawaher Abu Rahma (age 36) died from the inhalation of tear gas fired by IDF soldiers outside the Occupied Palestinian West Bank village of Bil'in. In response, hundreds of people demonstrated in Tel Aviv and a group of activists returned the American manufactured weapons used in the Occupied Palestinian Territories to the American embassador.
Then, this morning, Israel bombed Gaza and Israeli soldiers killed a 21 year old Palestinian iat a checkpoint outside of Nablus (no longer a story on the front page of Haaretz or Ynet). When I walked into work, this was the first thing my colleague mentioned–not happy new year. It didn't leave my mind all day and now, in the evening, in Jerusalem, I'm distressed at how few Israelis are aware of this atrocity. I'm going to try to not take too much out on my neighbor, who last night told me that I shouldn't be upset about the Gaza War because "Israel is the most moral army in the world."
This is the post that I wrote about the Gaza War that I'm still waiting to be approved by Huffington Post and a call from Gaza Youth that I'm republishing in solidarity. If most of the human rights activists in Israel weren't exahusted from the weekend or sitting in jail, I'd be looking for the nearest riot to attend.
A Former Supporter of the Gaza War Reflects, in Shame
It was two years ago, when Israel launched the Gaza War, or "Operation Cast Lead" as the Israeli military calls it, that I had an Israeli experience Birthright didn't prepare me for–trauma. Even though I was a peace activist my whole life–organizing demonstrations against the wars in Afghanistan and Iraq at age sixteen–during the Gaza war, like many in the Israeli peace camp, I became pro-war.
Boxed up in my tiny Tel Aviv apartment, I struggled to understand how my life could go on as normal while blood was running through the streets of Gaza,  just one hour away. For hours I glued myself to the news via television, radio and internet — looking for a way to touch the trauma, to become a victim of the war machine. The IDF warned, that for the first time ever, Hamas missiles could reach Tel Aviv — I cursed my south Tel Aviv apartment and wondered why I didn't pay higher rent to live up north. At any moment, a missile could land on our house and we would be like the Israelis in Sderot, suffering from shock, shrapnel wounds and property loss — thank G-d I was renting.
A few days after the war started, I had to go out of the house. I had to go to this office and that office, pay this and that bill. I had to, as many of my Israeli friends said, "go on with my life." But the war wouldn't let me go — there was no normal life to be had. In every car and shop, the radio and television blared with images of army generals and angry journalists, who were locked out of Gaza and could only stand on hill tops overlooking plumbs of smoke. Every once in a while, we caught a glimpse of a mother lying over the body of her child. A father standing in front of his demolished house — the coffin of his family. In every office I visited, a distraught family member sat behind a desk on the telephone speaking to her or his loved one, who was putting on his uniform and heading to war. The city was suddenly filled with soldiers, carrying heavy bags on their backs and expressions on their faces. The Tel Aviv bubble had been penetrated.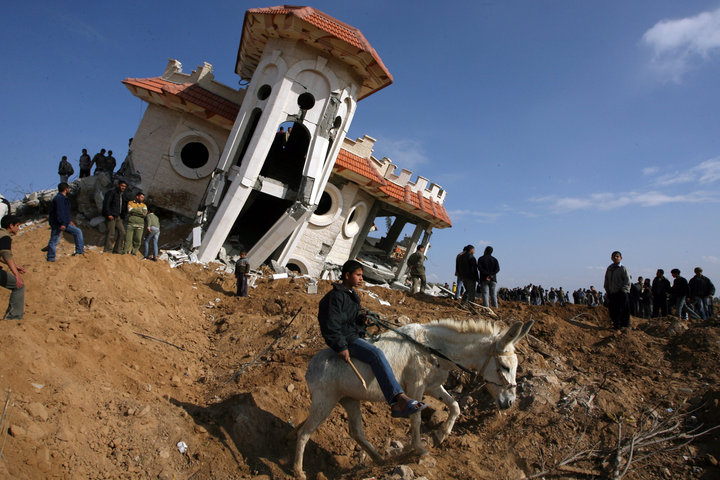 Photo by Wassam Nassar
When I returned home, I closed the big medal door on my bedroom window, which doubled as a bomb shelter. I posted myself in front of the television, keyboard on my lap and started writing. Many of my posts (which I removed later) reached levels of deep distress and hysteria. A few of my Israeli and American friends tried to  help me break through the fear and see how cruel and inhumane "Operation Cast Lead" was — I couldn't hear a damn thing.
Months later, when I returned to the United States, I started to recognize how absurd my state of mind had become. When a military plane crossed over my college campus, I thought it was Iran. When students brought up the war, I accused them of being anti-Semitic.  And most notably, at my graduation ceremony, in a crowded auditorium I heard someone speaking Arabic and I immediately thought I was going to be the next victim of a terrorist attack. I was traumatized.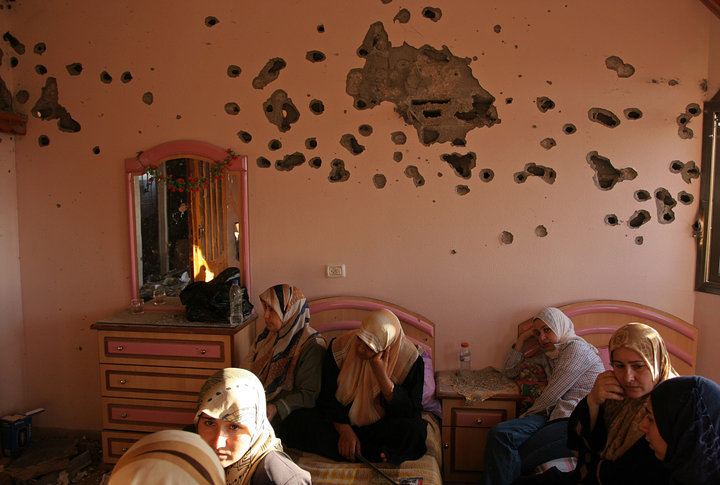 Photo by Wassam Nassar
This mild experience of the war, for someone so new to Israel — at home, safe in Tel Aviv — just touches on how manipulative fear is. For Jews (Israeli and non-Israeli alike), whose identity is so deeply defined by fear of the "other" — from the stories of Purim and Chanukah warning against assimilation, to historical tragedies like the Spanish Inquisition, Pogroms and the Holocaust — our fear continues to serve as a justification for brutal retaliation. Rest assured, we were victims. But wake up, we aren't any longer.
When I returned to Israel, I started looking for a way to keep my fear in check. I looked for a community that could weather the war storms and not let fear flood us with nationalistic tendencies where we forget what "nation" we're really apart of, the human one. During the Gaza flotilla raid, an event which only posed danger to Israel's reputation, I became critical of how quickly journalists picked provocative language and published round-ups and articles, like "'Lynch,' 'Attack' and 'Massacre' – Shooting Down Words in International Waters," to try to de escalate the fear and nationalistic tendencies that were rising. These posts connected me to a group of thoughtful journalists, most notably two Israeli photojournalists and former soldiers, who travelled regularly to the Occupied Palestinian Territories (OPT). They invited me to join them in Nabi Saleh, and slowly I started a journey of recognizing and breaking down my fear of the "other."
This journey included living in the OPT for six months. During this time, the people that I formerly only saw in the media as "terrorists" vanished. Not because Israel's endless "security" measures have repressed them, because the security fence has stopped them or all terror cells have been cleaned out — but simply because today 99.9% of Palestinians do not believe that terrorism is the way to freedom.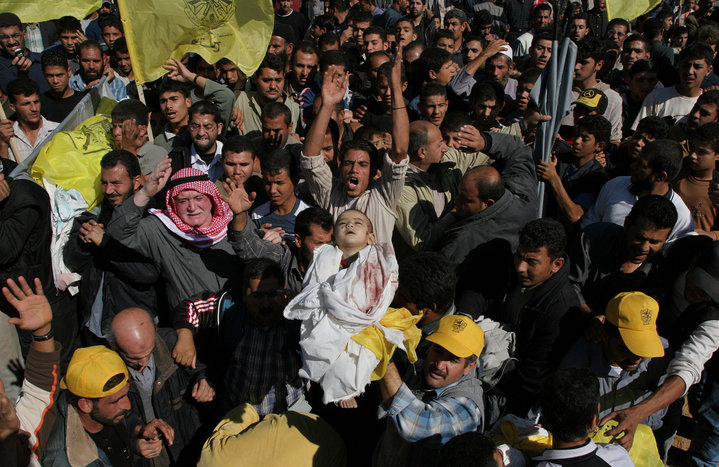 Photo by Wassam Nassar
But what about that 0.01%? The dozens of families that I came to know from Hebron, Bethlehem, Ramallah, Nablus and Jenin all had one striking thing in common: at least one or more of their family members was killed or imprisoned by the IDF. There is strong evidence that most "terrorists" have a prior history of violent encounters with the IDF that resulted in an immediate family member being killed or in some cases the attacker her/himself being injured or arrested (see statistical analysis here). And yet, even though Israel continues to collectively punish the entire Palestinian population for the violence of a few, Palestinians recognize something the Israeli government and most American-Jews do not yet understand — violence breeds violence and war will never lead to peace and security.
Now, two years after I shamefully supported the War in Gaza, the murder of 1400 people who have every right to hate and desire revenge, I am sure that I know who the terrorists were and who supported them–it was my democratically elected government, it was my military and it was me. Gaza, I am so sorry. You should not forgive me, or us, but perhaps if I work for your freedom, one day we will be able to reconcile. Until then, all my love.
Gaza's Youth Manifesto for Change
I was inspired by this post that I found on facebook today. Its inspiring, especially considering that Israel bombed Gaza again today, during the two year anniversary of the Gaza War.
Fuck Hamas. Fuck Israel. Fuck Fatah. Fuck UN. Fuck UNWRA. Fuck USA! We, the youth in Gaza, are so fed up with Israel, Hamas, the occupation, the violations of human rights and the indifference of the international community! We want to scream and break this wall of silence, injustice and indifference like the Israeli F16's breaking the wall of sound; scream with all the power in our souls in order to release this immense frustration that consumes us because of this fucking situation we live in; we are like lice between two nails living a nightmare inside a nightmare, no room for hope, no space for freedom. We are sick of being caught in this political struggle; sick of coal dark nights with airplanes circling above our homes; sick of innocent farmers getting shot in the buffer zone because they are taking care of their lands; sick of bearded guys walking around with their guns abusing their power, beating up or incarcerating young people demonstrating for what they believe in; sick of the wall of shame that separates us from the rest of our country and keeps us imprisoned in a stamp-sized piece of land; sick of being portrayed as terrorists, homemade fanatics with explosives in our pockets and evil in our eyes; sick of the indifference we meet from the international community, the so-called experts in expressing concerns and drafting resolutions but cowards in enforcing anything they agree on; we are sick and tired of living a shitty life, being kept in jail by Israel, beaten up by Hamas and completely ignored by the rest of the world.
There is a revolution growing inside of us, an immense dissatisfaction and frustration that will destroy us unless we find a way of canalizing this energy into something that can challenge the status quo and give us some kind of hope. The final drop that made our hearts tremble with frustration and hopelessness happened 30th November, when Hamas' officers came to Sharek Youth Forum, a leading youth organization (www.sharek.ps) with their guns, lies and aggressiveness, throwing everybody outside, incarcerating some and prohibiting Sharek from working. A few days later, demonstrators in front of Sharek were beaten and some incarcerated. We are really living a nightmare inside a nightmare. It is difficult to find words for the pressure we are under. We barely survived the Operation Cast Lead, where Israel very effectively bombed the shit out of us, destroying thousands of homes and even more lives and dreams. They did not get rid of Hamas, as they intended, but they sure scared us forever and distributed post traumatic stress syndrome to everybody, as there was nowhere to run.
We are youth with heavy hearts. We carry in ourselves a heaviness so immense that it makes it difficult to us to enjoy the sunset. How to enjoy it when dark clouds paint the horizon and bleak memories run past our eyes every time we close them? We smile in order to hide the pain. We laugh in order to forget the war. We hope in order not to commit suicide here and now. During the war we got the unmistakable feeling that Israel wanted to erase us from the face of the earth. During the last years Hamas has been doing all they can to control our thoughts, behaviour and aspirations. We are a generation of young people used to face missiles, carrying what seems to be a impossible mission of living a normal and healthy life, and only barely tolerated by a massive organization that has spread in our society as a malicious cancer disease, causing mayhem and effectively killing all living cells, thoughts and dreams on its way as well as paralyzing people with its terror regime. Not to mention the prison we live in, a prison sustained by a so-called democratic country.
History is repeating itself in its most cruel way and nobody seems to care. We are scared. Here in Gaza we are scared of being incarcerated, interrogated, hit, tortured, bombed, killed. We are afraid of living, because every single step we take has to be considered and well-thought, there are limitations everywhere, we cannot move as we want, say what we want, do what we want, sometimes we even cant think what we want because the occupation has occupied our brains and hearts so terrible that it hurts and it makes us want to shed endless tears of frustration and rage!
We do not want to hate, we do not want to feel all of this feelings, we do not want to be victims anymore. ENOUGH! Enough pain, enough tears, enough suffering, enough control, limitations, unjust justifications, terror, torture, excuses, bombings, sleepless nights, dead civilians, black memories, bleak future, heart aching present, disturbed politics, fanatic politicians, religious bullshit, enough incarceration! WE SAY STOP! This is not the future we want!
We want three things. We want to be free. We want to be able to live a normal life. We want peace. Is that too much to ask? We are a peace movement consistent of young people in Gaza and supporters elsewhere that will not rest until the truth about Gaza is known by everybody in this whole world and in such a degree that no more silent consent or loud indifference will be accepted.
This is the Gazan youth's manifesto for change!
We will start by destroying the occupation that surrounds ourselves, we will break free from this mental incarceration and regain our dignity and self respect.  We will carry our heads high even though we will face resistance. We will work day and night in order to change these miserable conditions we are living under. We will build dreams where we meet walls.
We only hope that you – yes, you reading this statement right now! – can support us. In order to find out how, please write on our wall or contact us directly: freegazayouth@hotmail.com
We want to be free, we want to live, we want peace.
FREE GAZA YOUTH!